Touhou!!!
so i have been woking on a touhou page for a while now and i have finaly gotten around to finishing it! gomensai XP!!

this is where i am going to put touhou stuff bc touhou is such a sugoi game!! its so KAWAII DESU~~~~! and ya know... im kinda okay at it!!

okay on this page i think it will be like the vocaloid page so like i put my favourtie charcters, games, music tracks, etc!

btw this page in under a lot of construction rn, so gomenasai if it looks ugly!

Cool touhou stuff!
this is kinda liek the "cool vocaloid stuff" section of the vocaloid page!
thoughts on touhou 17(also spoilers)
i daisuki it!!! so much!!! i absoluteley daisuki the soundtrack!!! urumi and keiki's themes are my favorite!! i also loooove the stage 4 theme!! super kakkoi!!! so umm the newhus are KAWAII!!! cowboyhu??? sign me the heck up!!! also i looove eika, she's sooo kawaii, sux that shes not that popular, but it cant be helped, shes a stage 1 boss. so pretty much theres a gang war in hell, which sounds totally metal, ya know??? and theres posession n stuff, its totally ill!!! howevr its not perfect... its set in hell, its about animals.... but theres no orinrinrin -.- ALSO its set in hell, you cross the sanzu.... but theres no komachi -.- ALSO its set in hell, kutaka works for the yama... but theres no eiki -.- whatevr, its daijoubu. even w/o them, its still a super tanoshii game!!! i love it!! i already 1cc'd it w/ youmu otter, shes totally broken >.< but whatevr, its still 1cc!! anyway, so yea i love it!!! specially the music!!
favourite charcters?
so this is where i am going to be listing my favcorite touhou characters!
also this is kinda outdated so im gonna b updating this soon but if u want a rlly current version 4 whatevr reason, here is my most recent touhousort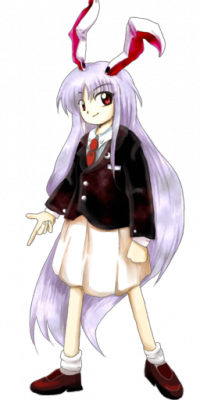 Reisen u. inaba!
i love reisen!!! she's soo kakkoi!!! reisen is my fav touhou bc i love everything about her!!! i daisuki her design, her spellcards, her stage, her theme, everything about her!!!!!!! i LVOE reisen!!!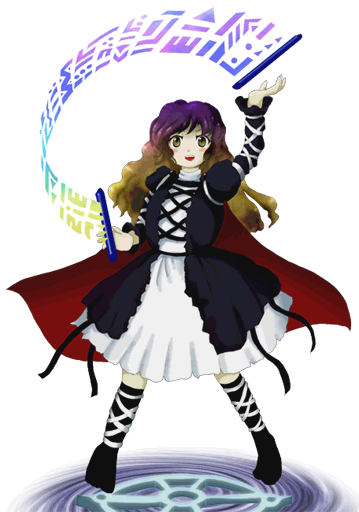 byakuren hijiri!
byakuren is such a sugoi character!! i love her design bc it makes her look soo pretty!! she's super cool too bc she is friends with both humans and yokai and she is super nice! even though i think shes the hardest final boss (ye even harder than junko) bc her last spell is CRAZY!! i still love byakuren!! shes got a pretty nice theme, too!!! o yea, i also like her bc in the fighting games, she's got a srsly KNOCKIN pair of boots! the only redemming part of UFO, btw bc UFO suxxx!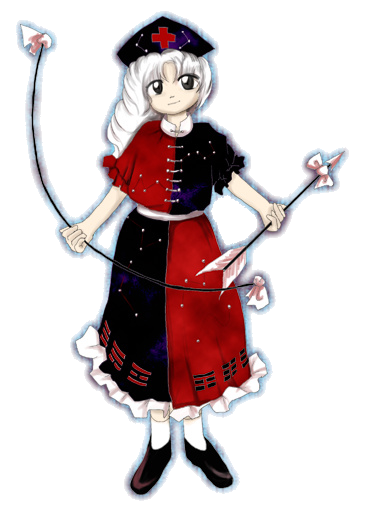 eirin yagokoro
HELP ME EIRIN lol!! i love eirin bc she is super smart and she like, knows everything!! also she helped create the lunar capital and that is really cool!I also think her spellcards r easier than kaguya's... i havent beat kaguya yet but i have beat eirin. >_<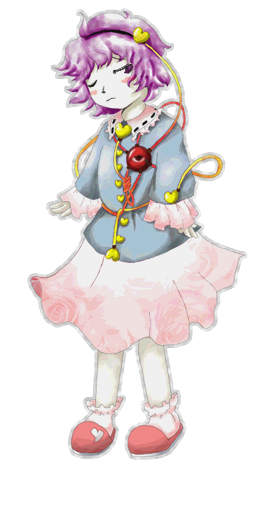 Satori komeiji!!
satori is a cute! A CUTE!! satori is just so kawaii desu!! i love her theme, its sooooooo sugoi!!!!! she reminds me of myself irl abit!! i wish i could read minds, it would be so sugoi!! i rlly want to read the minds of my dumb cats, yknow??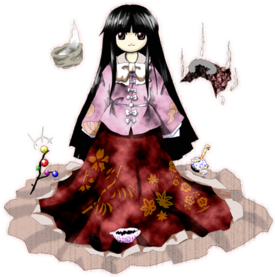 Kaguya Houraisan!
kaguya is just a sugoi charcater bc she is like a princess but form the MOON!! which makes her even moar sugoi desu!! I really like her theme too! kaguya is so kawaii tho!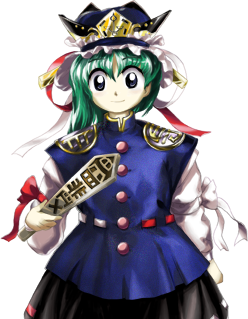 shiki eiki, yamaxanadu! (what a mouthfuL!)
eiki is KAKKOI!!! i daisuki her theme!!!!!!! i love everything about eiki!!! her outfit is super cool and her power is rlly interesting!!!!! shes cool and mature and.... idk why i love eiki but i <33 her!!
best touhou songs?
here is where i will put my favourite touhou songs down! but there is also too many sugoi tououh songs so i cant put all of them down XP. also click on their names 4 the youtube links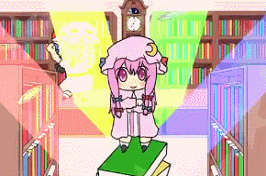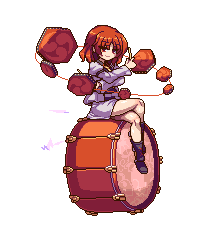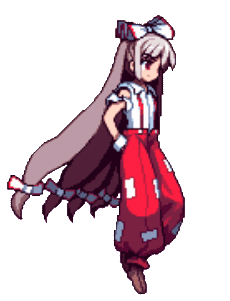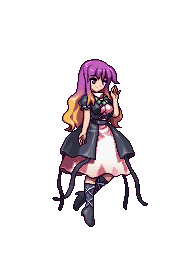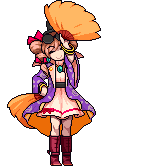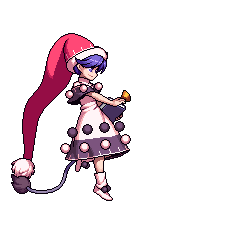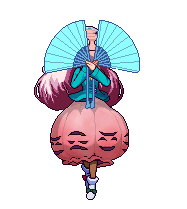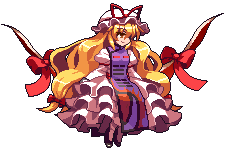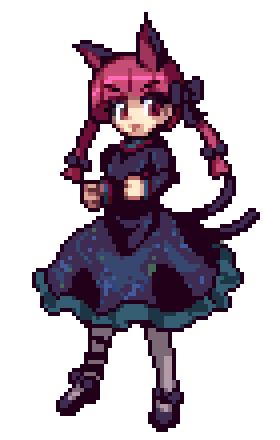 Favorite touhou games???
Here are my faovurite touhou games!!!
Imperishable night!!! it's my favoutire touhou game!! i daisuki the soundtrack and the characters are sooo sugoi!! Also the first game I 1cc'd!!! i can never seem to get the time bonuses thou.... but it cant be helped!!
double dealing character! i <3 this game bc it has a RLLY cool soundtrack!! also wakasagihime, sekibanki, and kagerou are suuuper kawaii! like i see them all bein friends and stuff! also seija is super cool, even tho i lose all my lives at her last spell!! and raiko has 1 of the best 2hu themes imo, and raiko is just suuuper cool!!
Hidden Star in Four Seasons!!! i just got around to playing this and i daisuki it sooooo much!!!!!!!! it took me a loooooong time toi get used to releases, but i think i got them nao!! i <3 the cast, and i rlly love aunn and narumi! theyre both soooo kawaii! also i think okina is suuper sugoi!! i mean she beats the mc!! also i love her theme!
the COOLEST touhous
these are the 100% coolest 2hus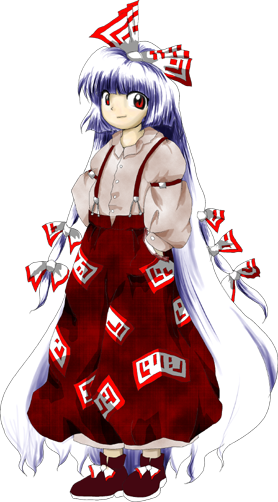 fujiwara no mokou!! she is the coolest 2hu!! all other coolhus wish they were as cool as her!!!! everything about mokou is cool, yknow?? like running a yakitori stand seems normal, but when mokou does it, its the coolest thing thats evr been done. so yea, mokou is the coolest 2hu that has ever been made, and all other coolhus can only dream of bein as cool as her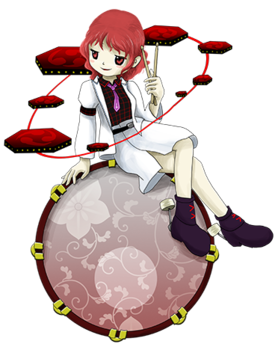 raiko horikawa! ya ik shes not the most popular twowho, but shes still super cool!! like i mean just look at how smug she is! the smughu b4 doremy! also she is super friendly 2 the mc in DDC, and bein nice is ALWAYS cool. she just kinda does her own thing and helps others, too, which makes her a super cool 2hu. also her spellcards are rlly cool lookin, like with the (curvy) lightning lazers, and throwin drums at you. just a rlly cool and friendly 2hu.
some other coolhus that dont have entries yet: yuugi hoshiguma, mazamiumaomu futatsuatsuaiawa, okina matara, captain murasa
My 1ccs and extra clears!!
so heres my 1cc chart!!! ther used to be an old one w/ a different reisen but i drew i new one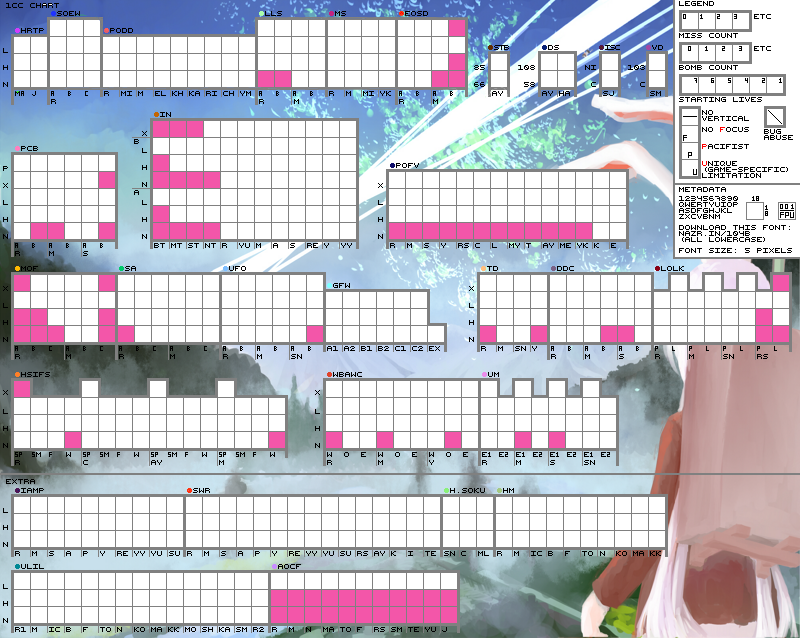 MoF: 8/7/18 (my first 1cc!)
LLS: 8/25/18
HSiFS: 9/7/18
PCB: 9/21/18
TD: 10/12/18
finally i finished DDC, sukuna didn't jank up my 1cc!
Extra clears!! not gonna be much here rn... i'm not very good at extra bosses, but it can't be helped!!!
HSiFS: 10/11/18. My first extra clear!!! ahh it was soo sugoi!!! i was so happy afterwards!! at the last second during okinas last spell, i died and i freaked out bc i thought it was my last life, but i thougut wrong!!!! ahh i <3 hsifs!!


IN: 2/16/19. 2nd extra clear!!!!! oh god i was so happy! the stage portion went rlly well, and i was expecting to beat it that time! so when i got 2 mokou, everything just fell into place!! i captured flying phoenix which i usually choke on, and then i captured xi fu's dimension, which is kinda hit or miss for me, but i guess they didn't miss! and i was doin RLLY well on fujiyama volcano, but at the end i janked it all up. oh well. BUT i made it!!!!!! with no lives and one bomb left!!! ahhh, so sugoi


MoF: 3/9/19. 3rd extra clear!! so this was was rlly weird bc i wasnt rlly tryin 2 beat her. i was just dinking around on extra, yknow, practicing. and i guess i had a rlly good run bc i beat!!! suwako!!!!!! suwako!!!!!!!!! i ended w/ no lives and 2 power left!! wild! wacky! kooky! suwako!
cool doujin stuff!!
so this used 2 b the "fav doujin circles" section but i changed it 2 just doujin stuff i liek!!
music circles
a-one
o-life japan
cool&create
tokyo & kokyo active neets
tamaonsen
albums
any "house set of ...." album (kuroneko lounge)
touhou strike (cool&create)
satori satorare (zyukucho)
manga n stuff liek that (hentai free!!)
flower satori (mokku)
the immortal who saw the death of the universe (alison)
crazy cirno (alison) also this one is a lil bit gory so b careful if yr sensitive 2 that
omoito (morino hon)
flan wants to die (tsukumizu)
touhou adventure (pageratta)
present from hell (Dra)
Myourenji Enikki Matome (katagiri)
pretty much anything by alison airlines, DYNAMO, bomber grape
othr doujin groups
gift!! of couse i daisuki gift!! they make fumos!!